The People of BD Software

About Leor Zolman
My name is Leor Zolman, Chief Consultant of BD Software. I've been involved in the world of programming since the days of the Altair 8800, with most of my work being in the field of Unix-related development tools. Upon founding BD Software in 1978, I wrote and marketed a successful 8080/Z80 C compiler development system, BDS C, which ran under the CP/M-80 operating system. Jeff Prothero says some very nice things about BDS C, and puts me in outrageously good company, in this collection of biographical sketches. The 8-bit days of personal computing were an incredible time for both me and for this industry.
After BDS C, I joined the technical staff at The C/C++ Users Journal, writing columns for CUJ, WDJ and SysAdmin, developing internal IT systems and authoring the very first R&D book published (Illustrated C).
More recently, I've created C, C++ and Java training workshops designed especially for programmers already having some prior programming experience. For introductory C++, there are two separate workshops: one for experienced C programmers, and one for programmers who have worked with languages other than C. The workshops have evolved over the past fifteen years to take advantage of new-generation presentation tools. The lab exercises include features such as multi-level initial templates so that programmers of all levels of experience can gain maximum benefit from the exercises.
The service I offer is extremely specialized: hands-on seminars for technical personnel acquiring new programming language skills. I've been told there aren't many programmers out there who can also teach; I'm grateful for whatever combination of traits allows me to do both, because I don't want to stop doing either.
Finally, I've written and maintain a Freeware tool for "decrypting" those gratuitously complex STL-related error messages put out by the current crop of Standard C++ compilers. Get it here.
Here's my résumé.
About Roy Rubinstein
My name is Roy Rubinstein, and I have been teaching computer courses since my first year as a graduate student in 1979. I have a Ph.D in Computer Science, have worked in both academia (including 7 years as a full-time faculty member at Worcester Polytechnic Institute) and industry (including as a Member of the Technical Staff at Bell Laboratories), and have programmed in approximately three dozen different programming languages (and taught about half of them) on multiple platforms. I have also had papers published in some of the more prestigious Computer Science research journals and presented at international conferences. Since I began corporate teaching in 1996, I have taught numerous courses on many topics, including Java, JavaScript, C Programming, Unix, Shell Programming, web design, HTML, ASP, Visual Basic, QBasic, PowerBuilder, Access, SQL, and relational database design. In addition, I have taught courses in many other areas of Computer Science, including data structures and algorithms, principles of programming languages, compiler design and implementation, automata theory, computability theory, and complexity theory.
I have also authored materials for courses in Java, JavaScript, HTML, CGI/Perl and Korn Shell Programming, and I continue to create new course materials.

About Danette Morris
My name is Danette Morris. I have been developing, designing and delivering UNIX related training since 1985. I started as a programmer in a CAD/CAM company and quickly discovered that working with people working on computers was much more rewarding than working with just computers. I spent several years in the customer training department of this company working on all aspects of training from design to delivery and evaluation. When my children were born, I realized the need for having more control over my own schedule so I struck out on my own as a contractor. I was still doing pretty much the same thing I had been doing but had broadened my sphere of contacts and applications. Instead of working with just CAD/CAM users I was delivering training to clients in the financial sector, manufacturing, networking, etc.
My specialties include UNIX OS from fundamentals to system administration and Perl programming.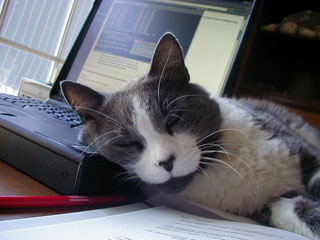 About Winston
Winston helps Leor from getting too bent out of shape about Life. He is shown here helping to dissipate some heat from Leor's Inspiron notebook.
---
Credits:

Graphic design of this site was by Michael Teague of Sailcat Graphics.

The work of making all those images come together as a website was done by Jere Matlock of Words in a Row.

Special thanks go to Sharon Elwell of Elwell Design, for the outstanding artwork she has provided over the years, including the background image for this page.
Home | Courses | Tools | Resources
Clients | Successes | Contact | Site Map | Links | About Us
All text and images on this website are Copyright © 2001-2015 BD Software.
All rights reserved.